Upholsteries 
For our shift knobs and shift boots we offer a variety of upholsteries such as (genuine) leather, Alcantara, suede and Ultrasuede including punched and perforated variations.
We carefully select our upholsteries, appearance, quality and great feel are some of the most important characteristics an upholstery should have, but we also put great effort in attaching the upholstery as perfectly as possible, securing it with the right amount of tension, cutting and sewing it precisely and making sure the holes (punched and perforated upholsteries for shift knobs) line up nicely.
Our flat ball and GT1/GT3 style shift knobs are fitted with the sewing seam at the back out of sight (can be fitted facing to the front in sight aswell if desired).
The cilinder and piston style shift knobs (with non perforated upholsteries) are provided with aesthetic double stitches facing forwards, but can also be relocated facing to the rear out of sight.
-Leather black is a fine structured leather with semi gloss appearance, a very smooth leather that provides a great feel of quality to your hand and one that will match very well with most black leathers found in many cars as standard.
- Leather black (punched) is a semi-perforated black leather that has great appearance and can also be perfectly combined with a matching shift boot (unlike fully perforated upholsteries). But also combined with a plain black leather shift boot this upholstery will stand out just wrapped around the shift knob.
- Leather red & yellow is a very smooth, soft touch nappa leather with a fine structure. However when attached to the shift knob core under a bit of tension it will have a very smooth appearance.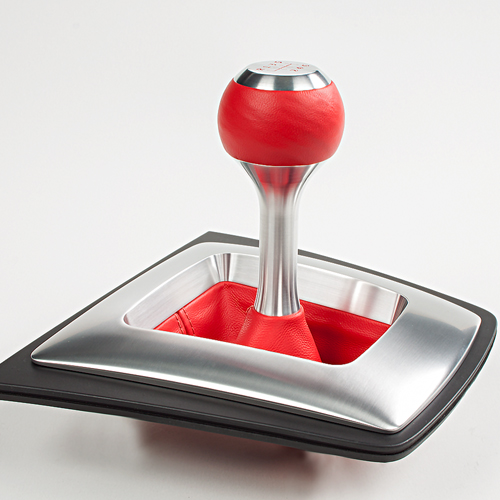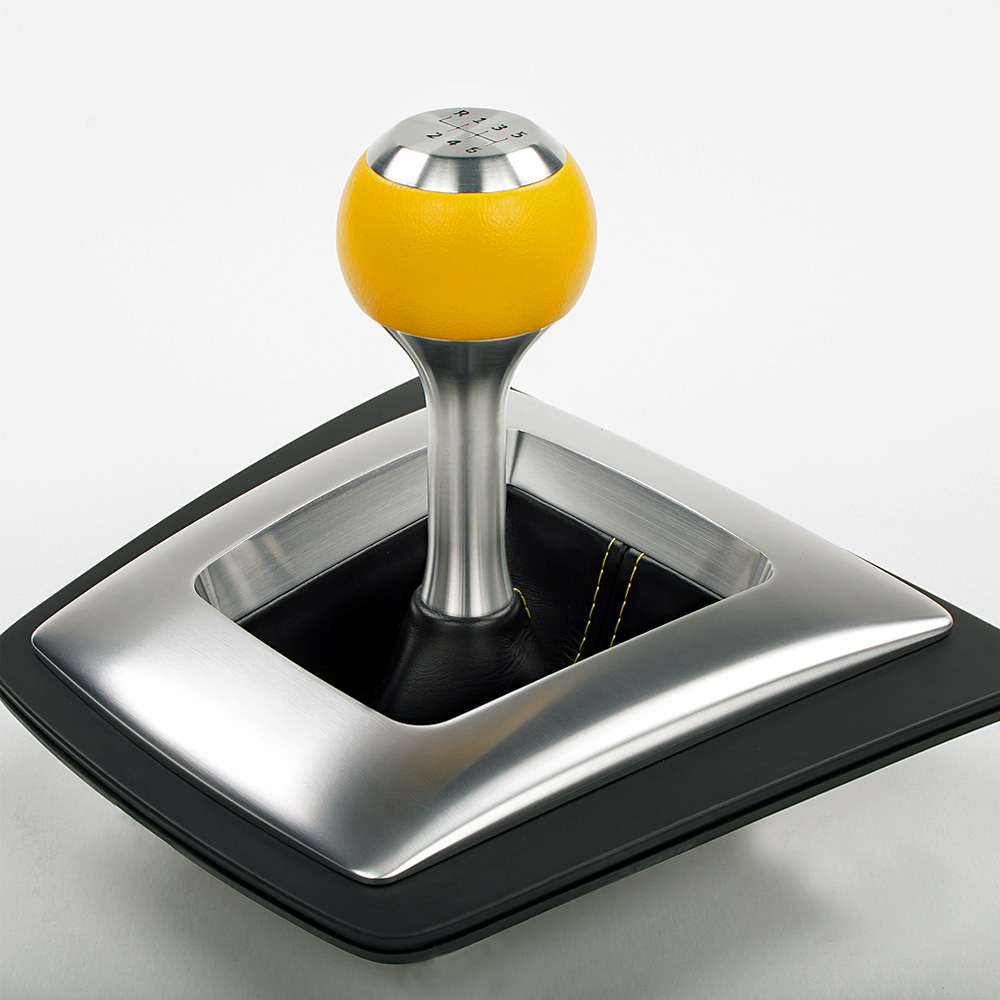 -Alcantara black Is used as standard in many high end performance cars. Alcantara is composed of around 68% polyester and 32% polyurethane, providing increased durability and is stain resistance. The appearance and tactile feel of the material is similar to that of suede. 
Alcantara white - is a snow white coloured upholstery that stands out nearly as much on its own as the rest of the kit. Together this makes for a stunning (show car) combination. For daily driving clean hands are advised, although Alcantara can be cleaned very well with just water.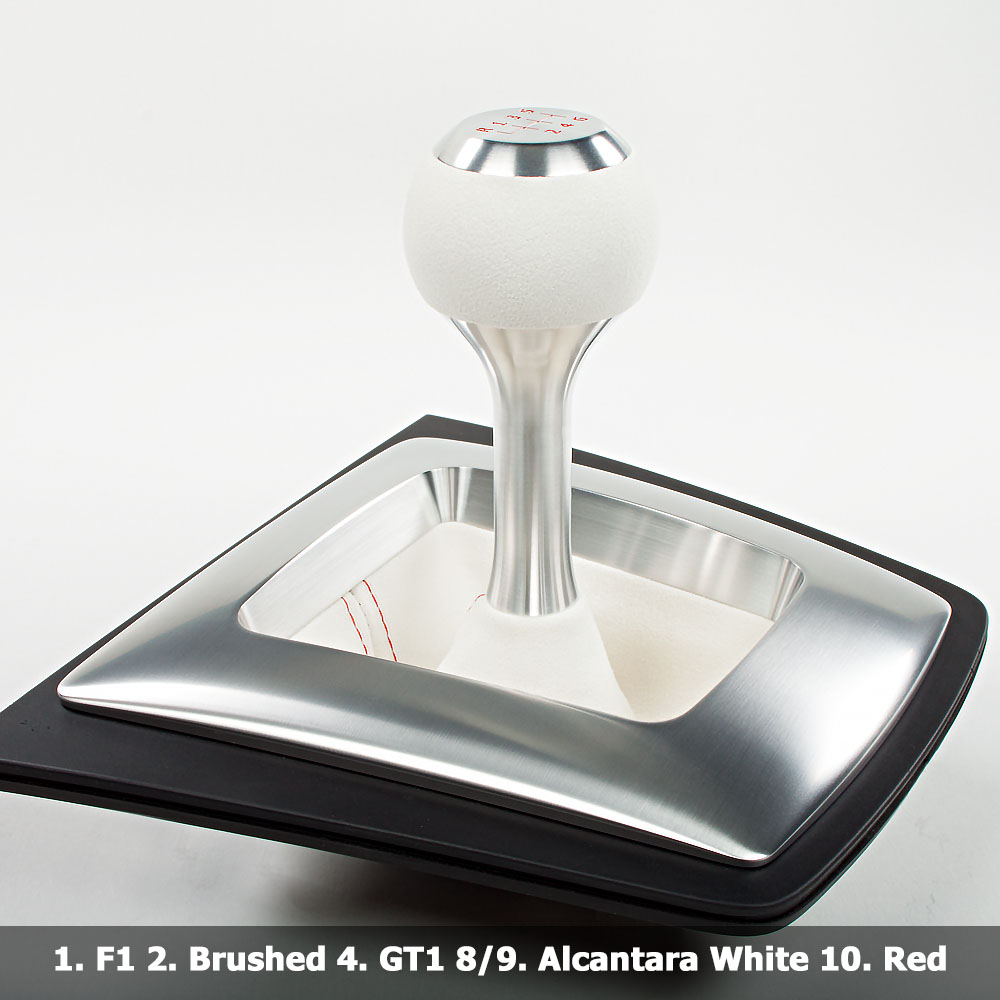 Alcantara Silver 
Ultrasuede Black / Blue / Grey (light)  - is very similar to Alcantara, but with a more coarse structure.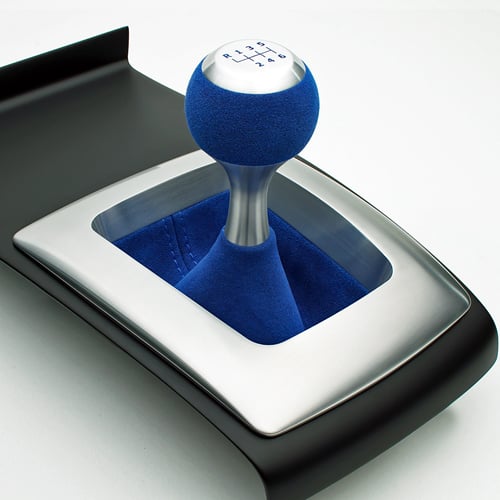 Ultrasuede black / red (perforated)- For the shift knob we also offer a perforated ultrasuede.
Leather black (perforated) - is very thin sheep leather, incredibly strong and very grippy. With a semi gloss shine and fine structure this upholstery has great appearance combined with fantastic feel.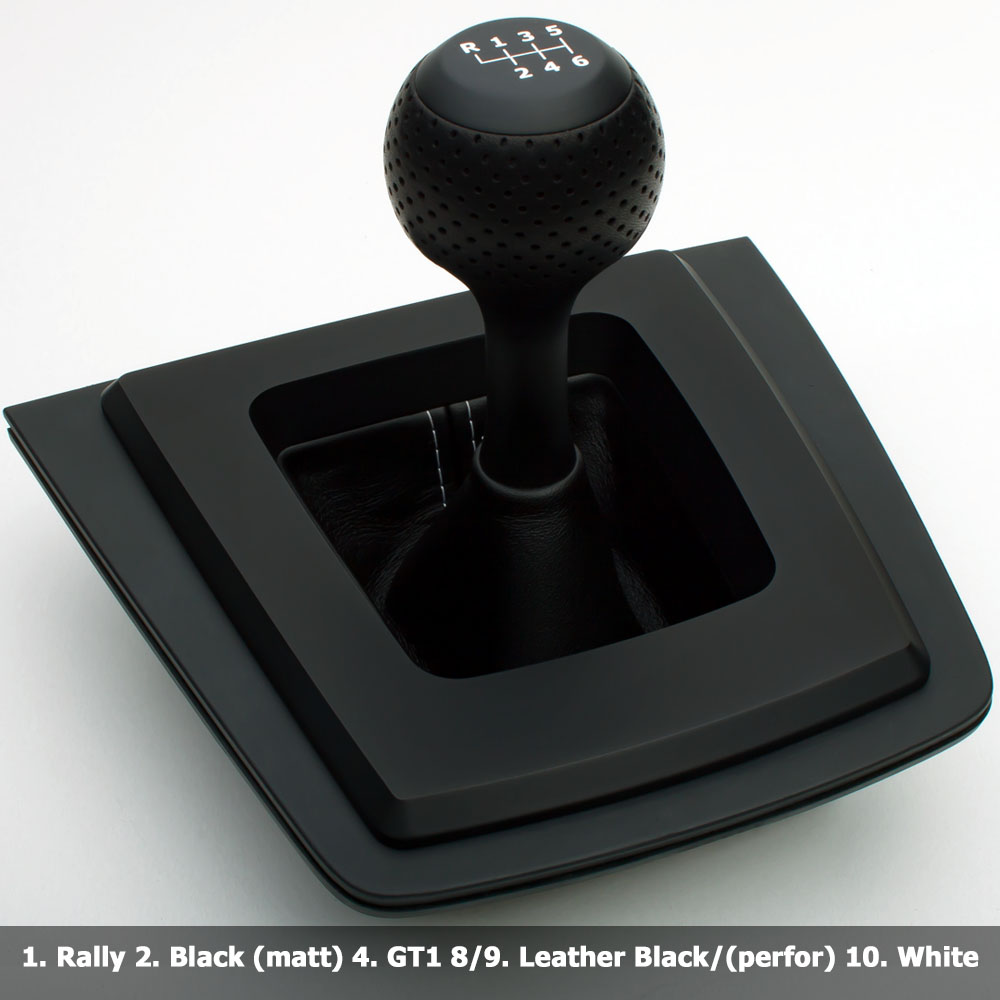 Suede black (perforated) - A very fine suede that gives a feeling no artificial material can give. Suede may however be a bit more prone to stains than ultrasuede.
Ebony Wood with aluminum inlay - is our top of the line masterpiece, with horizontal aluminum inlay for the flat ball and GT1 design shift knobs and vertical inlay for the Cilinder and Piston designs.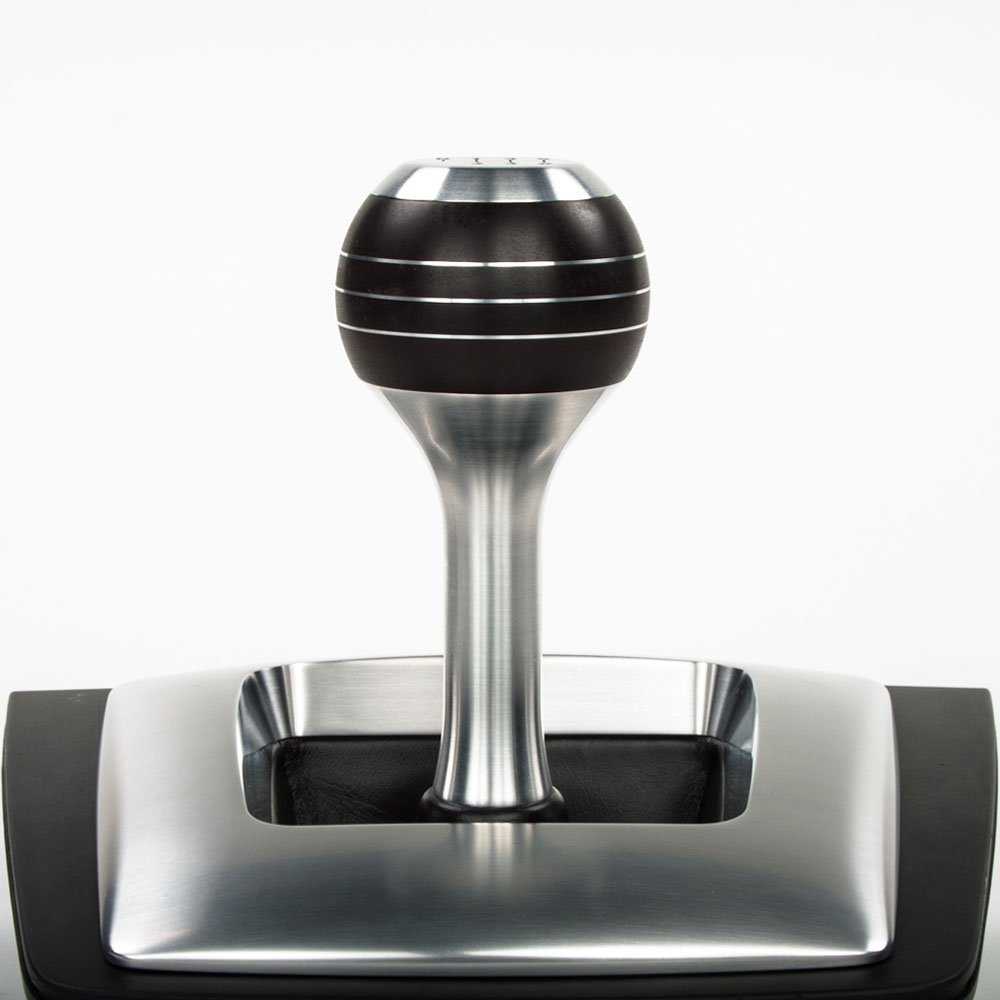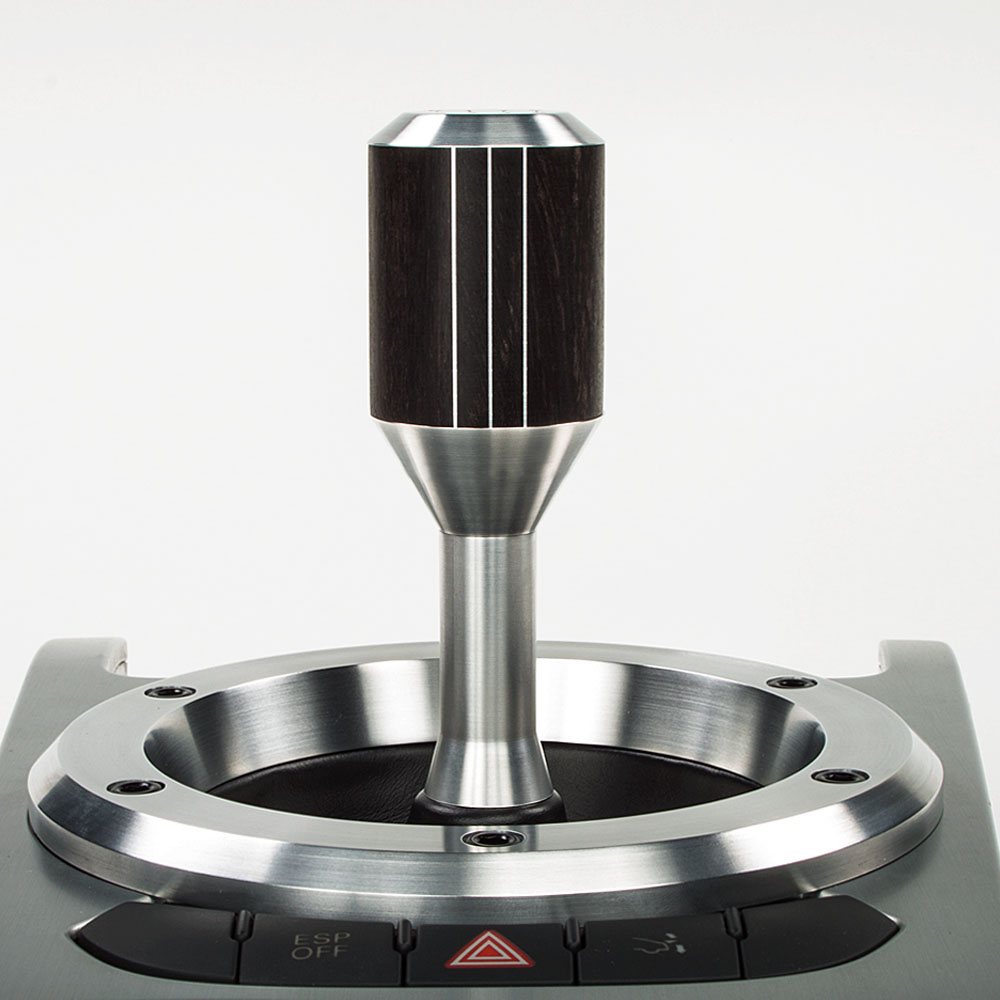 Carbon fibre - For the Piston design shift knob we also have a (plain weave) carbon fibre version available.
Double stitches
Double stitches are available in a variety of colors for aswell the shift boot as our cilinder and piston style shift knobs.