Frame designs
The main frame is one of the most eye catching features of a SportShifter kit, individualy designed for each car model to give it a unique appearance and allowing a smaller shift boot that flows smoothly to get a much cleaner and sportier look.
Milled out of one solid block high grade aluminum this frame is a far more techinical part than it seems, regardless of the chosen finish it distinguishes itself quickly from cheap plastics used in many cars and brings an incredible level of quality into the car.
-The F1 frame is smooth round shaped and blends in perfectly with pretty much every car and interior.
*Many of the F1 design main frames have been updated throughout the 2nd half of 2018 There may be pictures of older design main frames in the Gallery displayed still. Product pages always show the most recent versions. 
-The Rally frame has a more angular design with the (optional) addition of socket cap bolts,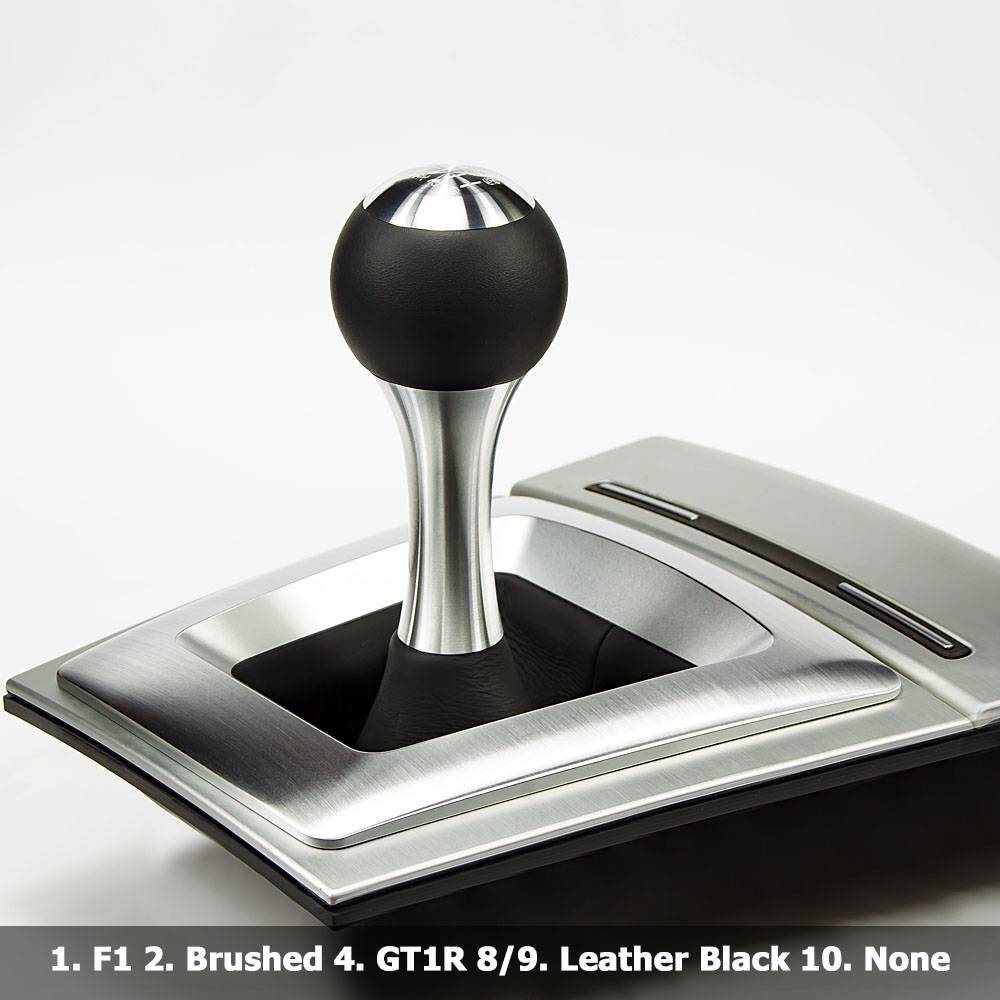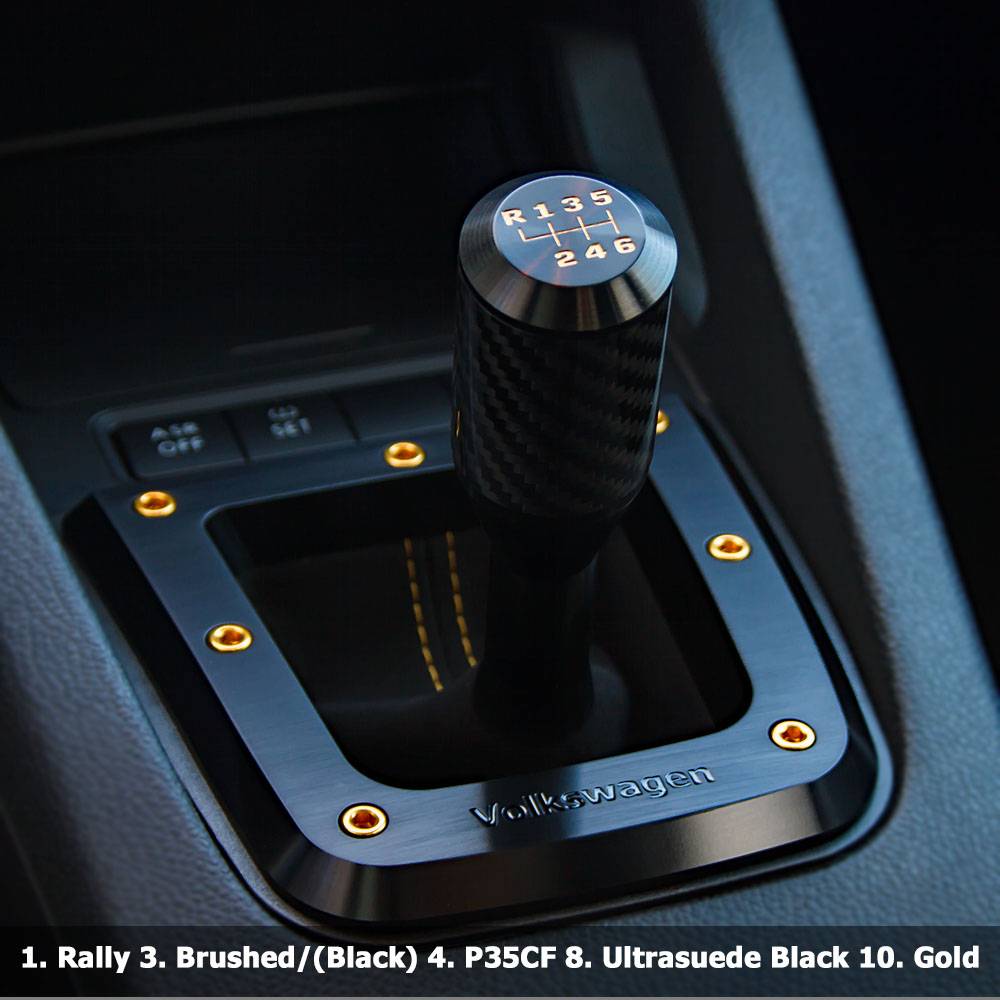 Finishes 
-Brushed is our ultimate finish on bare aluminum, bringing out the very best (high grade) aluminum has to offer. 
-Anodized Black (matt/brushed) adds a black anodized layer on top of our initial finishes that is also very durable and strong.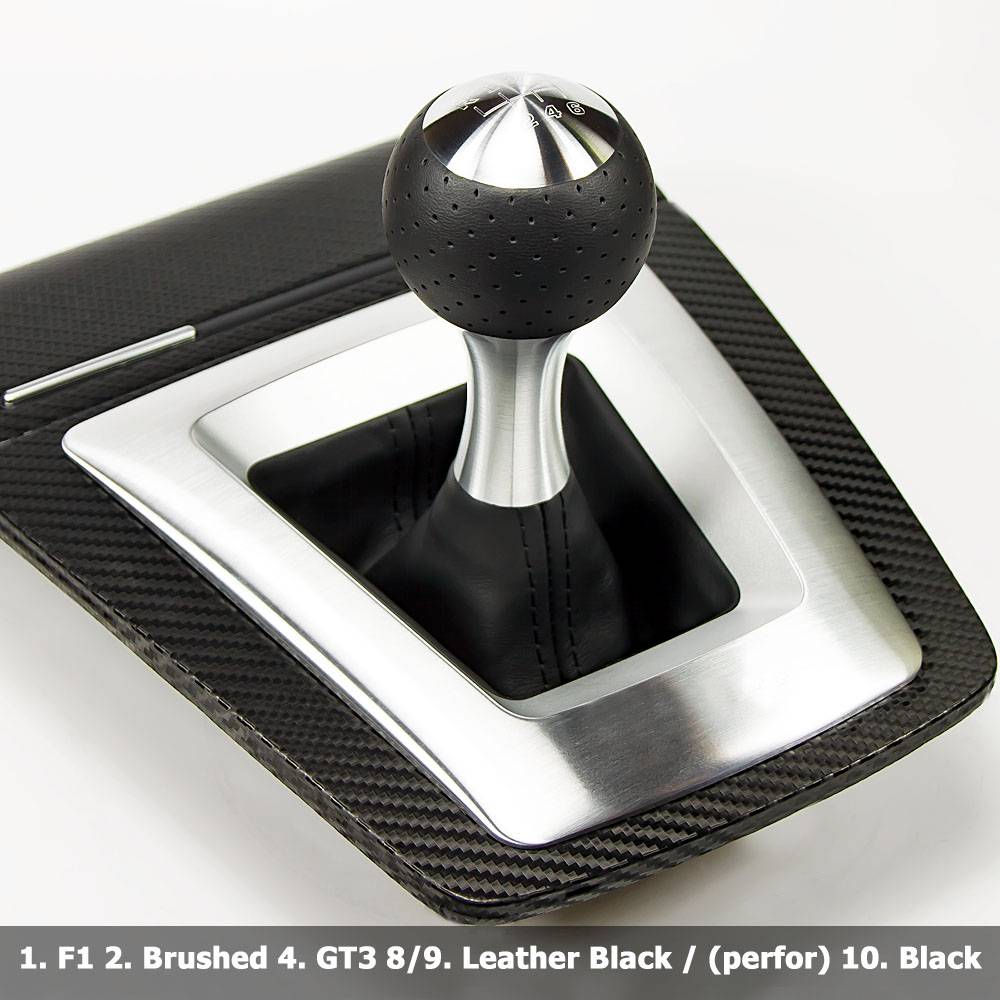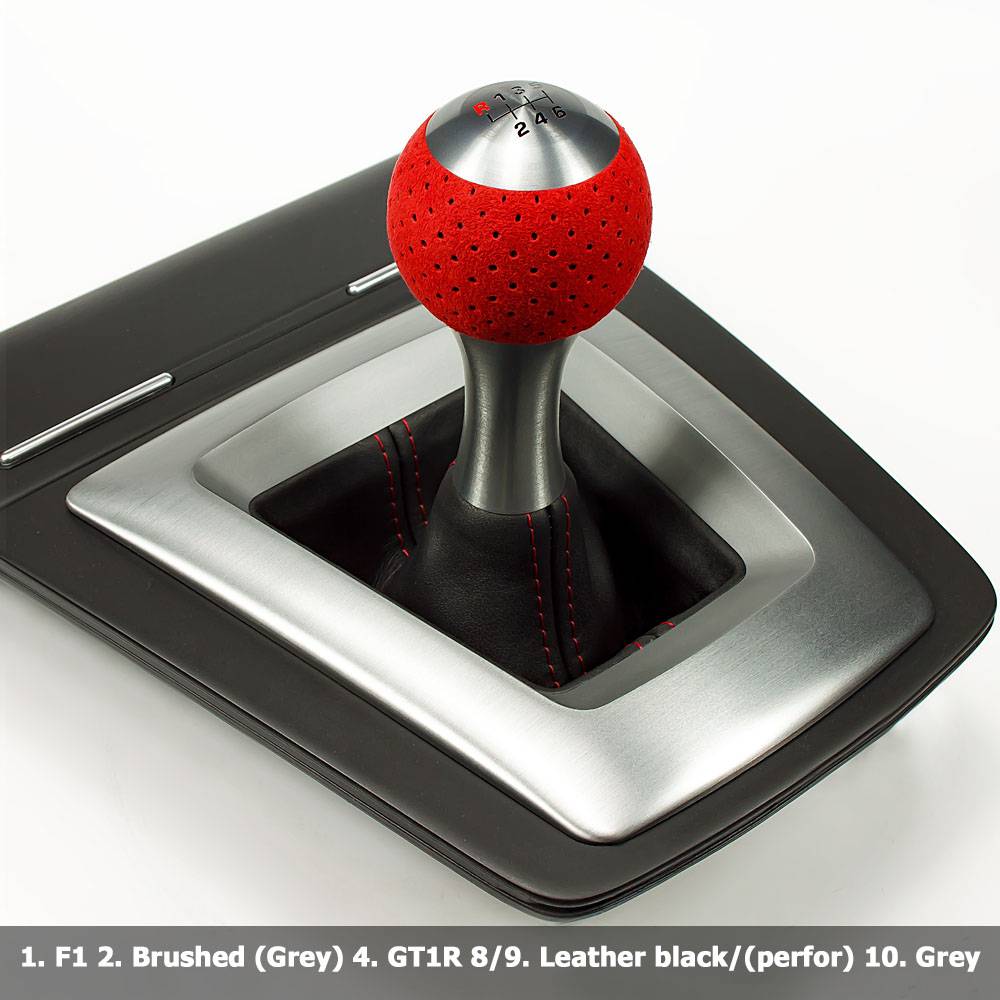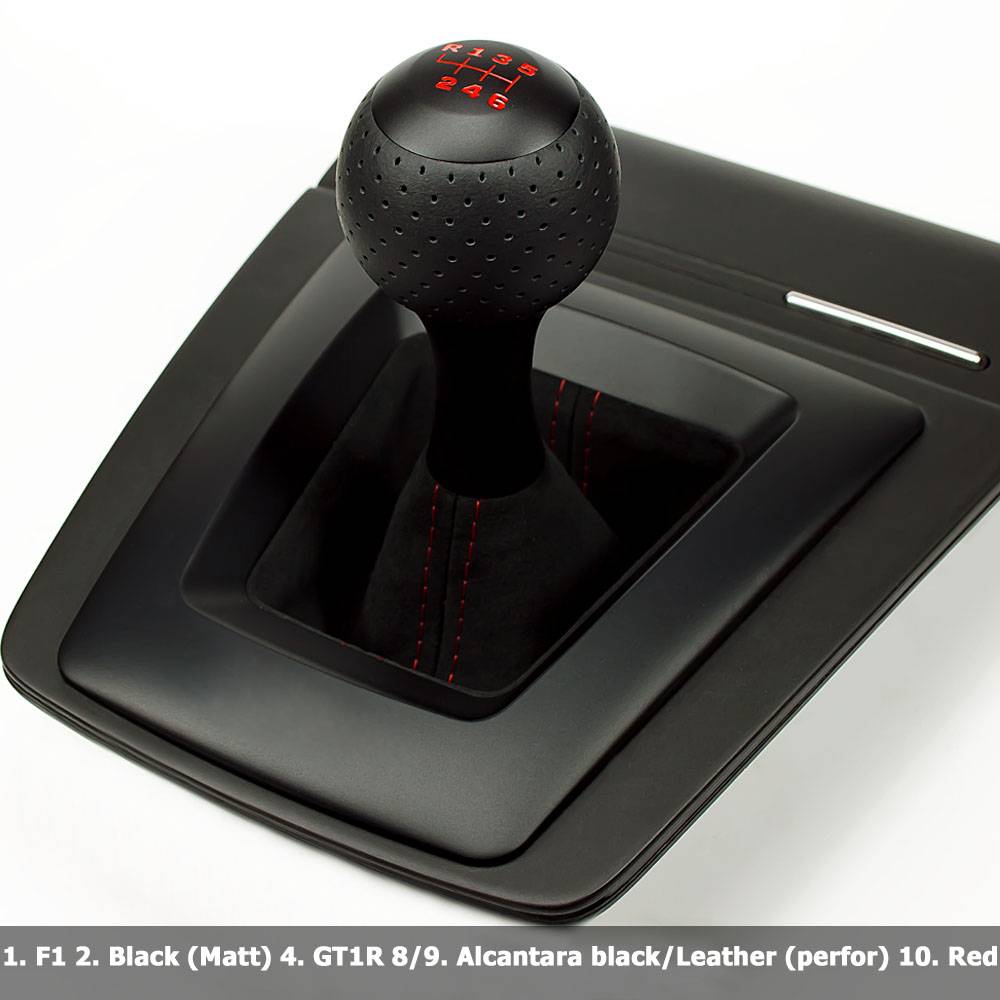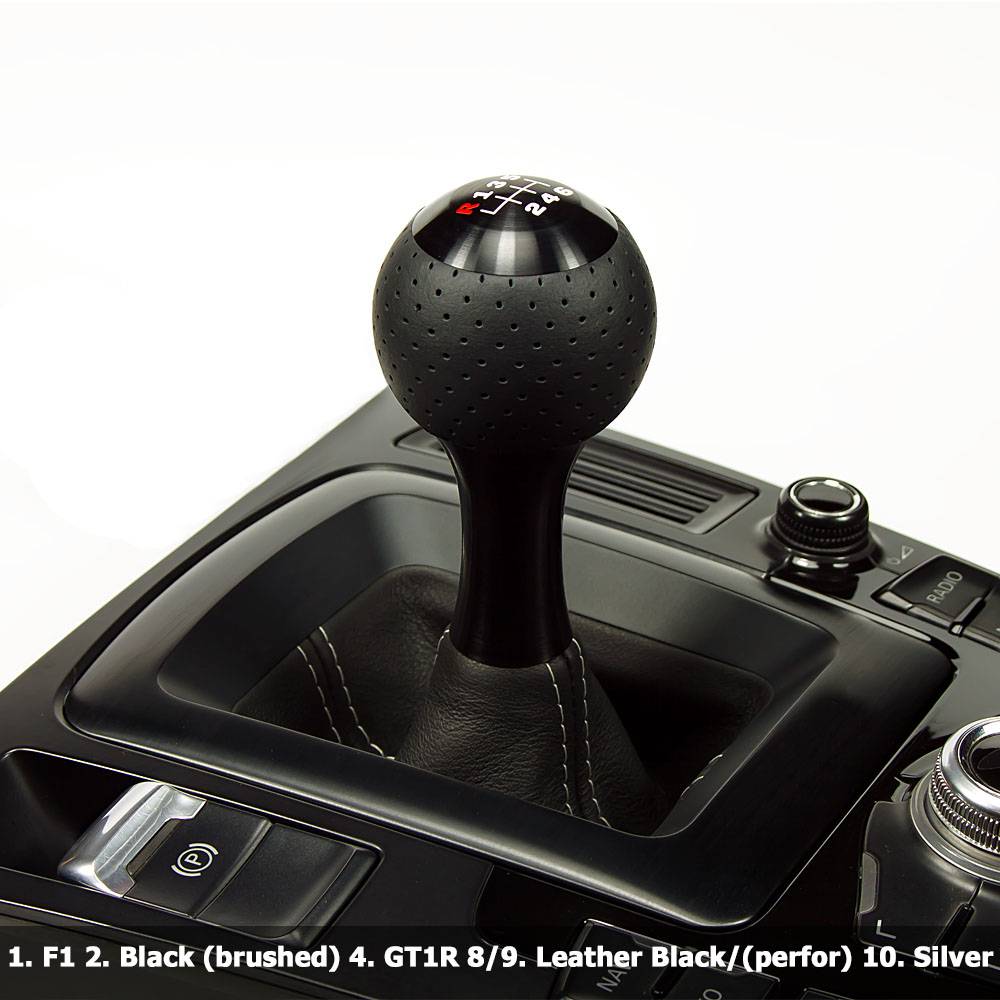 Gearknob designs & weights
Our gearknobs are available in several designs and weights, build in a unique way from a combination of aluminum, brass and/or with the addition of lead.
As our shift knobs are designed to be mounted very secured to the shaft of the linkage system and only a few millimeters from the very top, they will instantly transform the shifting experience regardless of the chosen weight. It feels solid and because of the lowered mounting point, throw is reduced to a minimum.
Light weight (~100 grams) - As you will have to set less than 100 gramms into motion, our lightweight gearknobs allow you to rapidly change gears and are perfectly suited for spirited driving or trackdays.
Medium weight (~250 grams) - For cars with a smooth drivetrain and low effort gear changes a medium weight gearknob may be more then sufficient to bring comfort to the highest level. Adding more weight can make gear changes feel slow and can take away the sharpness during spirited drives. For most VAG vehicles medium weight gives a good allround experience and noticable added weight over a standard unit. Also a great combination with many short shift systems that will require more effort to select gears due to the altered pivot point.
Heavy weight (~400 grams) - If you want effortless shifting and ultimate comfort, heavy is the way to go. It will allow you to change gears with just a push of your finger. It also dampens vibrations and shocks to provide a comfortable place to rest your hand. Also a great combination with short shift systems that require significantly more effort to select gears due to the altered pivot point.
*The length of the shifter rod varies from vehicle to vehicle and will always be made as short as possible to match the stock rod length.
If desired a shorter version can be supplied to match a shortened rod.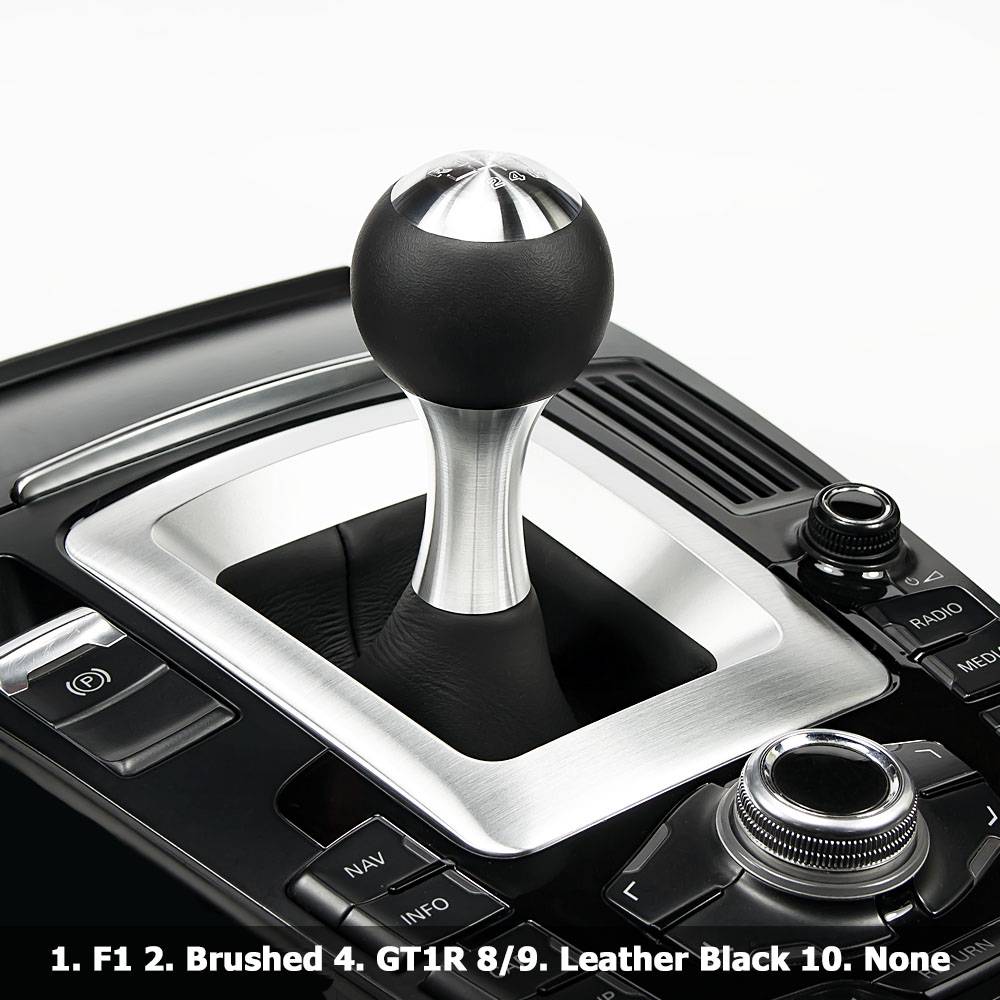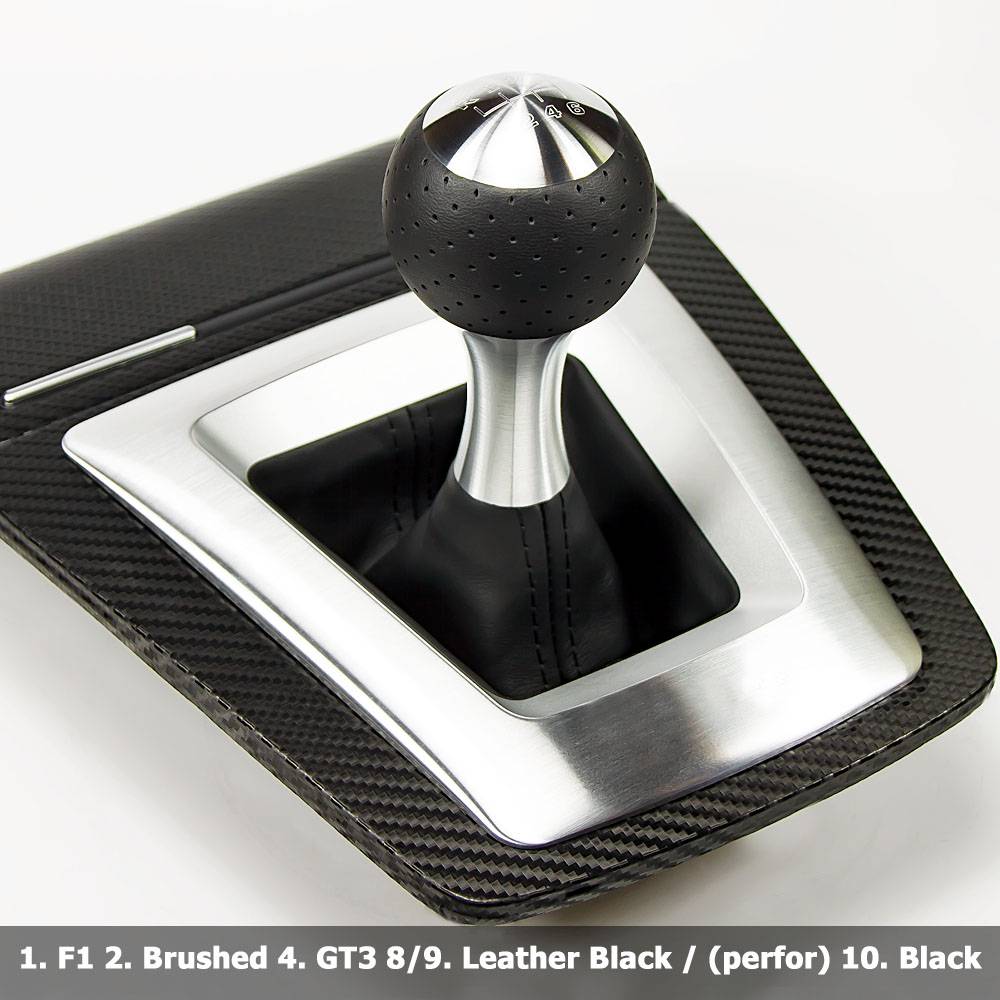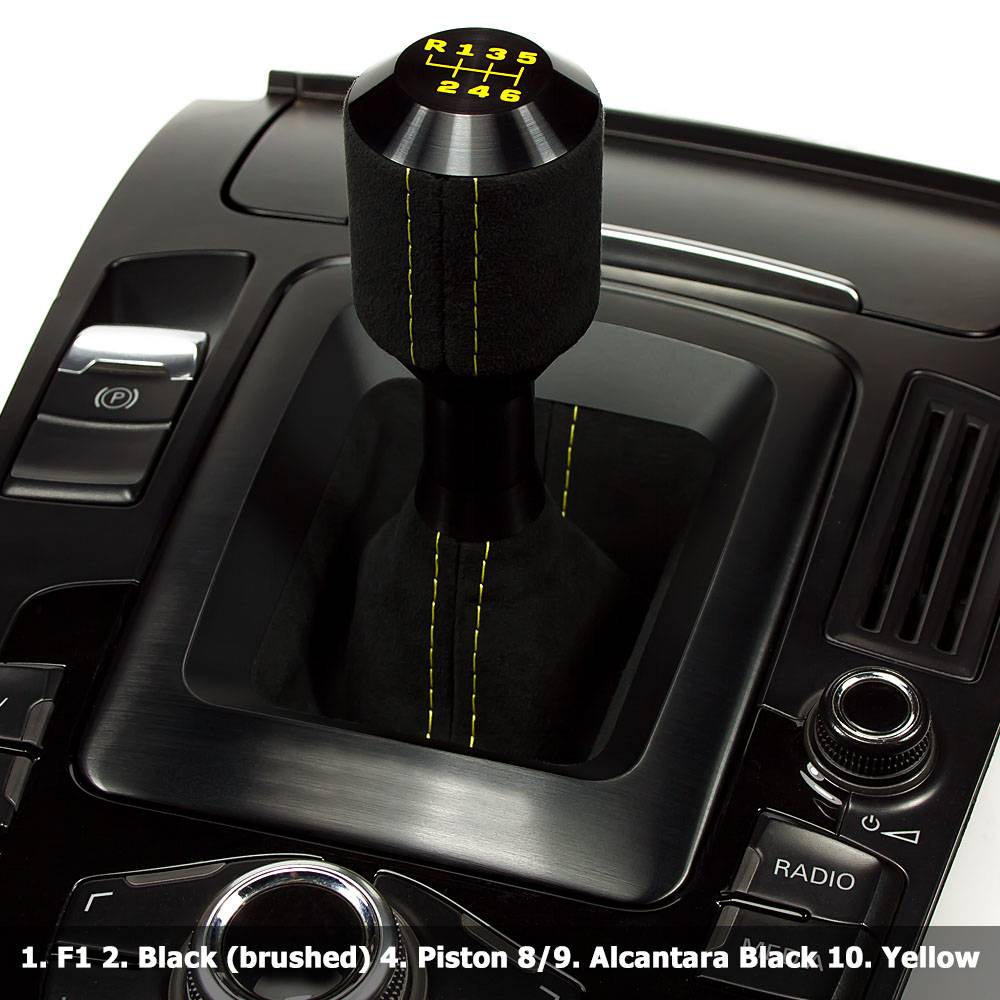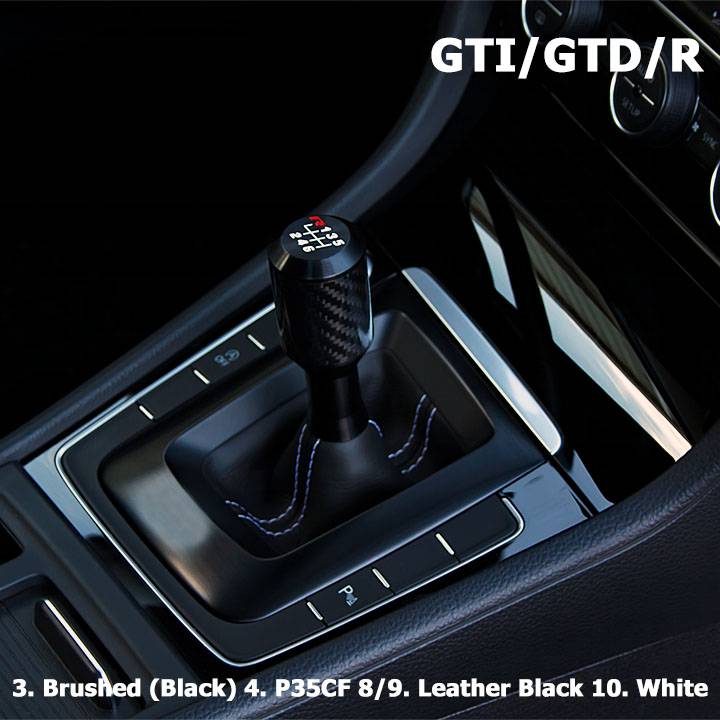 Upholsteries 
For our shift knobs and shift boots we offer a variety of upholsteries such as (genuine) leather, Alcantara and Ultrasuede including perforated variations.
-Leather black / (Perfor)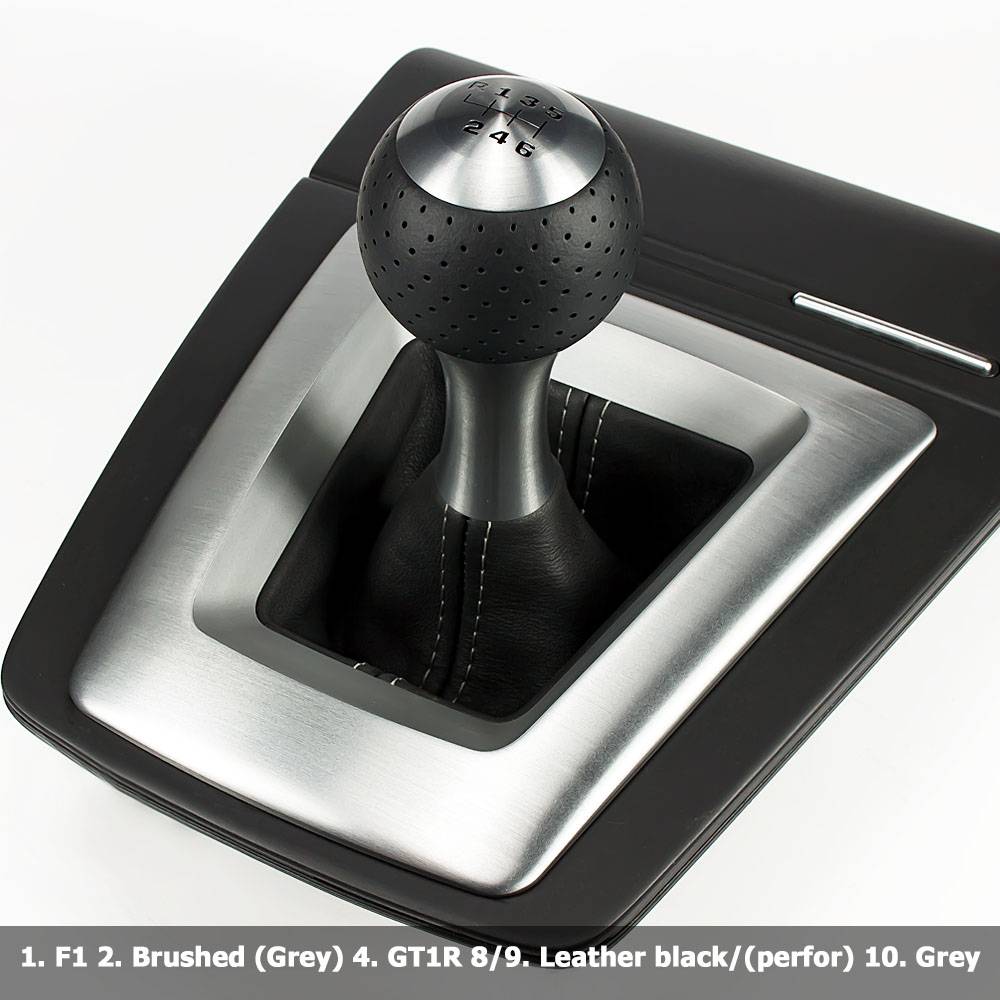 -Leather Red / Ultrasuede Red (perfor)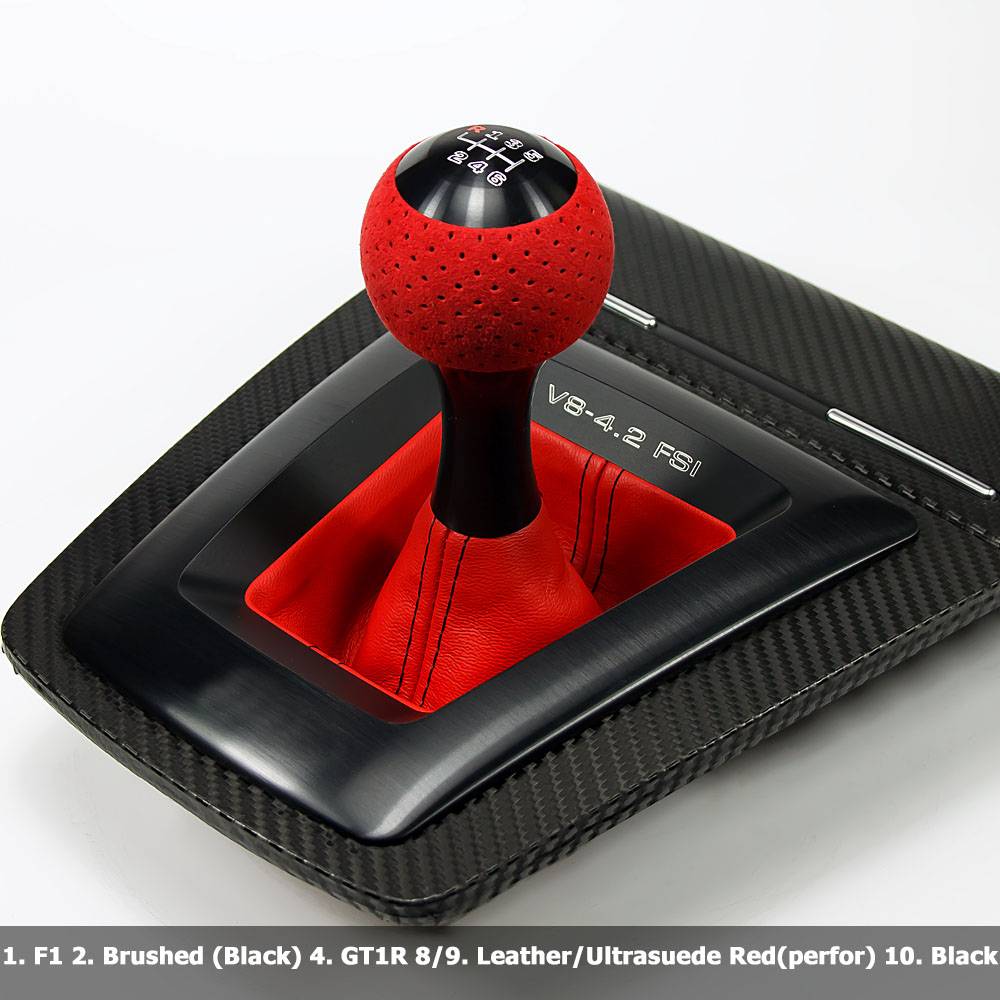 -Alcantara black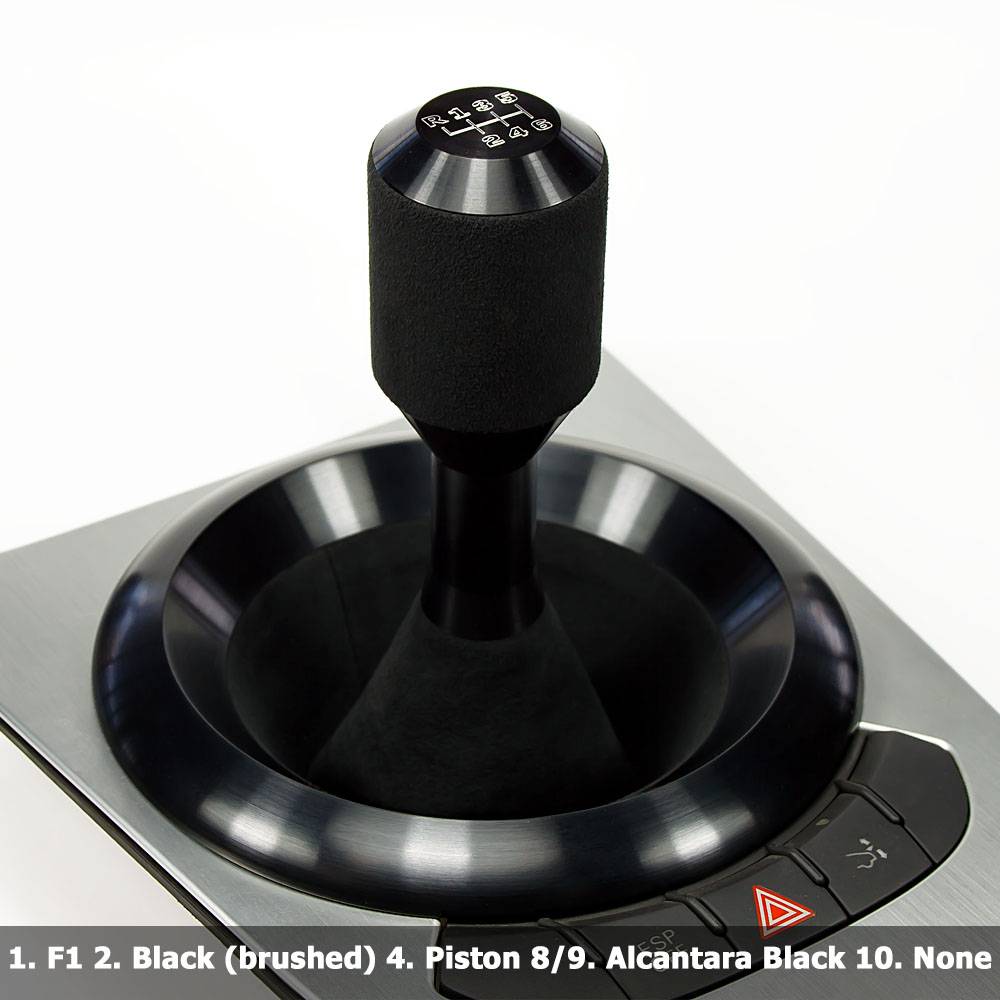 Ultrasuede black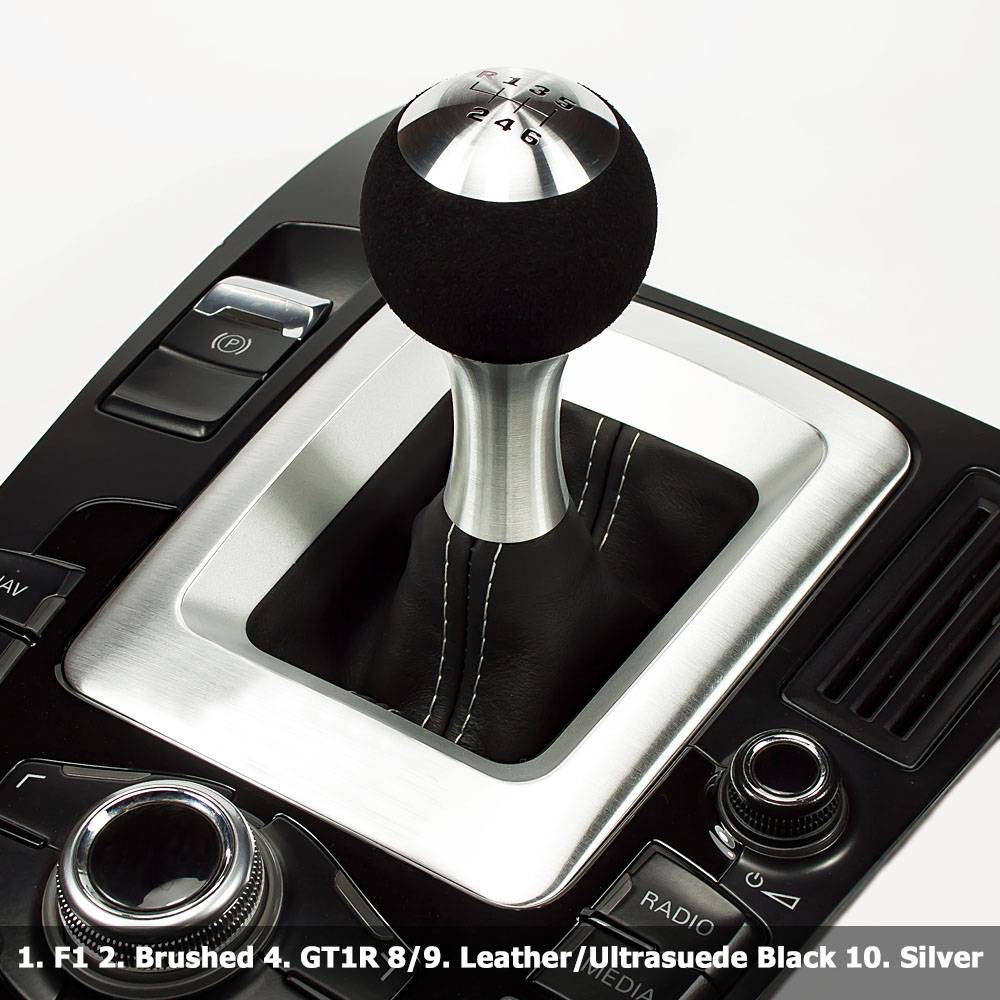 Double stitches
Double stitches are available in a variety of colors for aswell the shift boot as our cilinder and piston style shift knobs.
Custom engraving
We can engrave a personal logo, engine displacement or pretty much anything desired on top of the shift knob or into the surrounding. 
Brandlogo's such as the 4 Audi rings or the VW emblem are not allowed.
Fill out your preference when ordering and we will e-mail CAD drawings for you to approve before taking your kit into production.